Case Study / Focus Analysis
Devine Jamz Gospel Network (DJGN) is a faith-based marketing agency that specializes in promoting inspirational and positive music to family-based audiences. With a focus on Christian and Gospel music, DJGN helps independent recording artists reach their target audience through education and direct-to-fan marketing strategies. This analysis will evaluate the services provided by DJGN and their impact on artists' visibility and success. It will also discuss the methodology used by DJGN to measure chart rankings.
I. Background
Devine Jamz Gospel Network was founded by Ray Oster and managed by Brenda Solomon. As Christians themselves, they created a direct-to-fan marketing model to support artists who are often overlooked by major labels. It's important to note that DJGN is not a nonprofit organization or a major record label with financial assistance from the government or private companies. The business sustains itself through the budget provided by clients.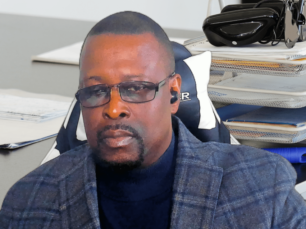 Ray Oster
Founder / Adviser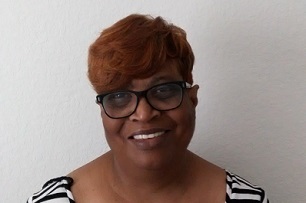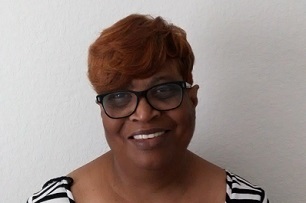 Brenda Solomon
General Manager
II. Analyze Services
All-In-One Marketing Support: DJGN offers comprehensive marketing support to artists, including strategic planning, branding, digital marketing, and advertising.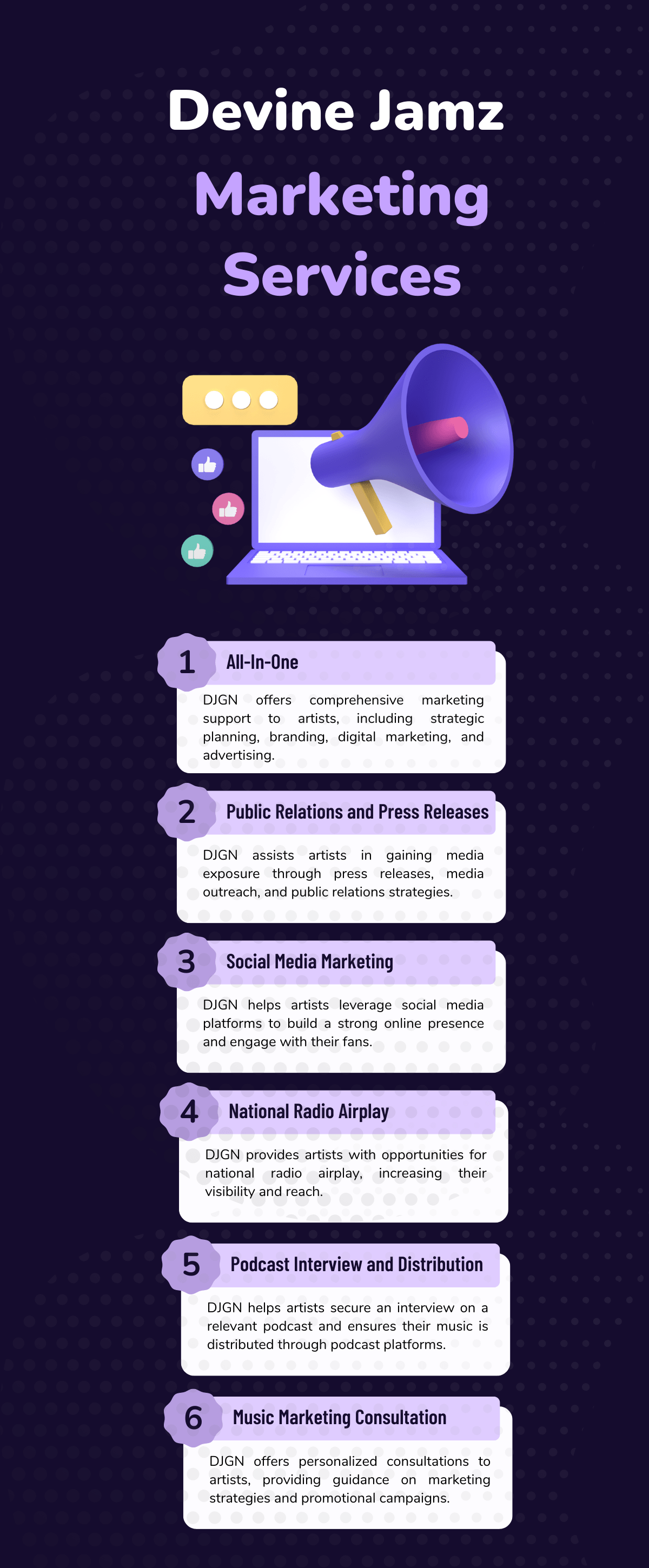 III. Services Impact
Devine Jamz Gospel Network has successfully helped several artists achieve notable chart positions and recognition. Here are a few examples: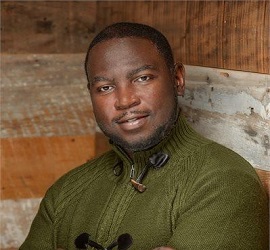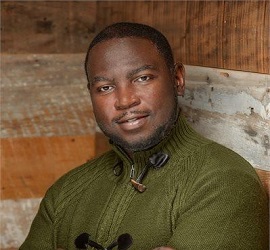 Gospel Singer Songwriter Anthony Nelsom & Overcomers: Anthony Nelson's ensemble achieved significant success with hits like "Deeper," which reached the No. 1 position on the Billboard Gospel Digital Song Sales chart. Other songs like "Jealous," "Everything," and "Undeserved" also achieved top positions on the chart.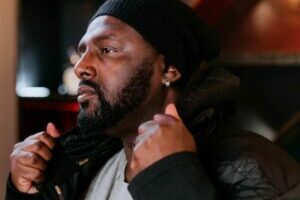 Hip Hop and Music Producer Deshawn White: Deshawn White's single "Burn" held the No. 1 position on the Nielsen BDS Radio Top 30 Chart for three weeks with the support of DJGN.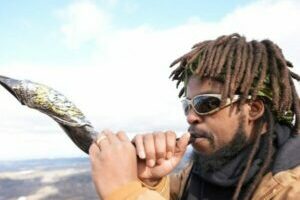 Hip Hop Artist ZeeZeeWatch Thumpin: ZeeZeeWatch Thumpin's music charted at No. 1 on the Nielsen BDS Radio Top 30 Chart within the third week of airplay through DJGN's National Radio support.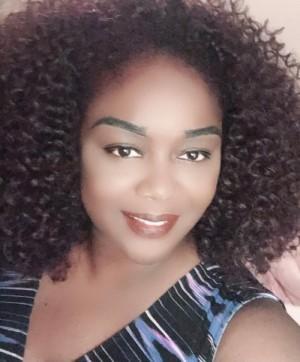 Musician, Singer-songwriter, and Educator Laneta: Laneta's single "Wanna praise ya" ranked on Digital Radio Tracker's Global Top 50 Gospel Chart, thanks to DJGN's support.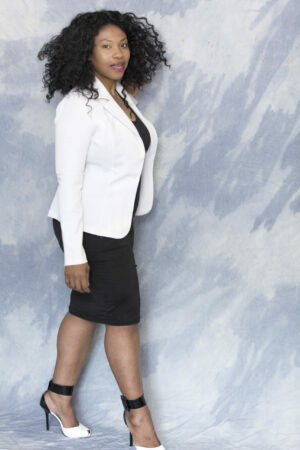 Singer-Songwriter Palmyre Seraphin: Palmyre Seraphin's bold single "You better know what time it is" earned a National Radio Airplay Campaign and charted multiple times on Digital Radio Tracker's Charts.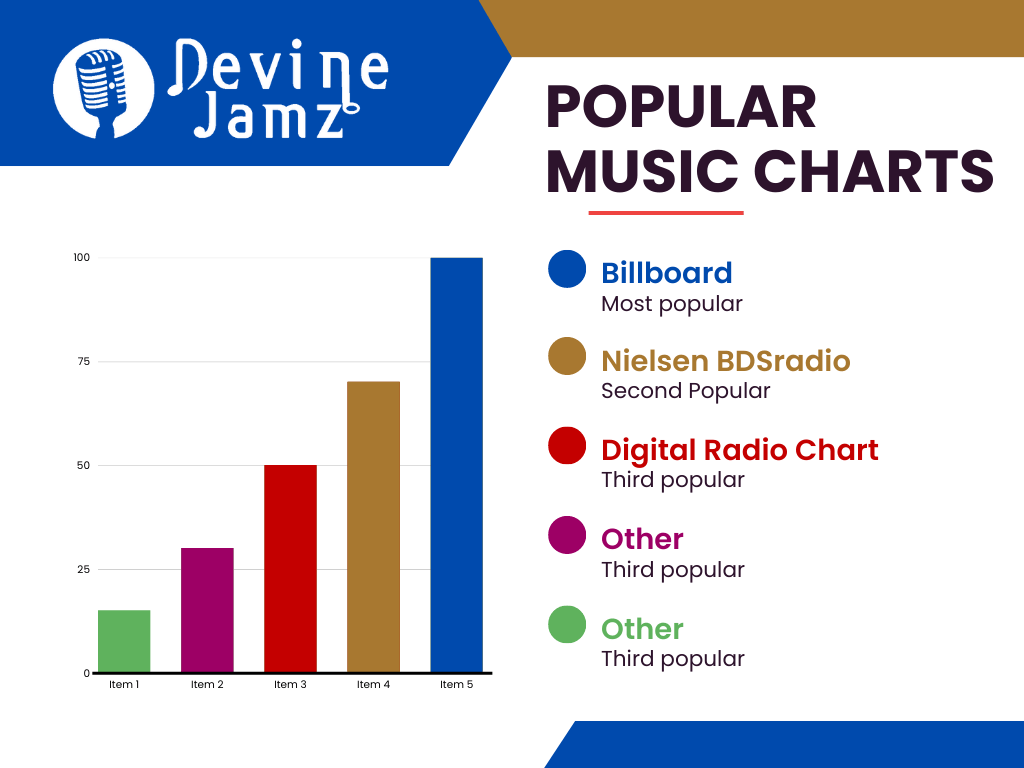 IV. Methodology
Devine Jamz Gospel Network uses various methodologies and metrics to measure chart rankings and determine the success of their marketing efforts. Some common methodologies employed include:
Airplay Monitoring: DJGN tracks the number of times a song is played on radio stations. They use a combination of manual reporting from radio station programmers and automated systems that capture audio fingerprints or metadata from broadcast signals.
Audience Impressions: Chart rankings often incorporate audience impressions, which estimate the number of people exposed to a song based on factors like station listenership, broadcast reach, and song duration. Higher audience impressions indicate a greater reach and impact of the song.
Station Spins: This metric measures the frequency with which a song is played on individual radio stations. The more spins a song receives, the higher its ranking. DJGN considers the diversity of stations playing a song to determine its popularity.
Listener Requests: In some cases, DJGN may consider listener requests or feedback to assess the popularity of songs. This can be collected through call-ins, online requests, or social media engagement.
Streaming and Sales Data: DJGN integrates streaming and sales data from platforms like Spotify, Apple Music, and digital download platforms. This data reflects the popularity and consumer engagement with a song and contributes to the ranking calculation.
Panel Sampling: DJGN may utilize panels of selected radio stations or a representative sample of stations to track and measure airplay. These panels are carefully chosen to represent different markets, formats, and listener demographics.
Time Weighting: Charts may incorporate time weighting, giving more weight to recent airplay or streaming data. This ensures that newer releases have a fair chance to climb the charts and reflects the current popularity of songs.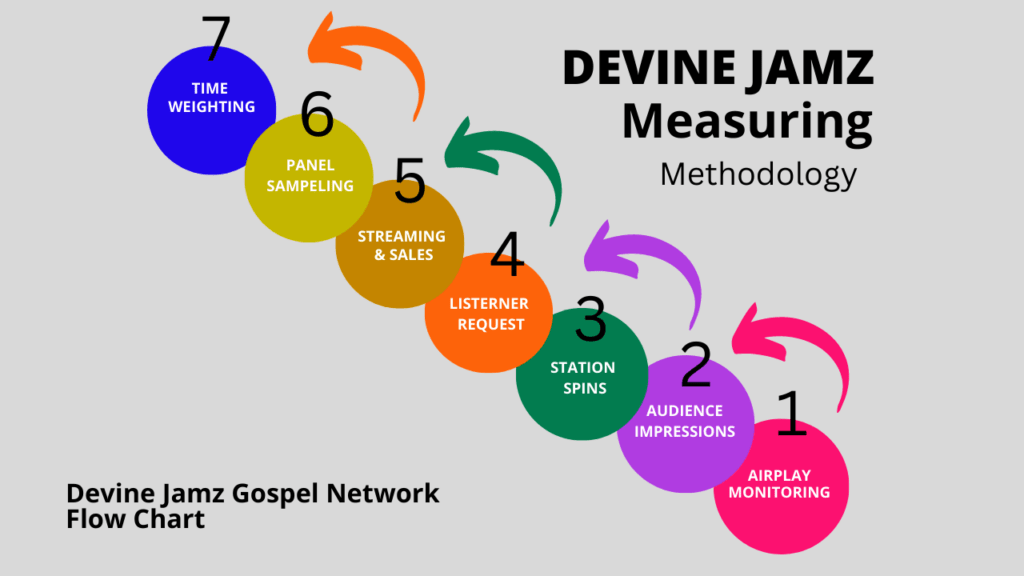 V. Artist's Reach
DJGN helps artists expand their reach through various marketing strategies and partnerships. Some key approaches include:
Content Marketing: DJGN assists artists in creating compelling content to engage their target audience, including blog posts, videos, and social media content.
Blogs: DJGN collaborates with influential blogs and platforms to feature artists, their music, and related stories, increasing their visibility and exposure.
Search Engine Marketing: DJGN employs search engine optimization (SEO) techniques to ensure artists' content ranks higher in search engine results, driving organic traffic to their platforms.
Affiliate Partnerships: DJGN establishes partnerships with companies and organizations within the music industry, such as Hypeddit and Freelance Associates, to leverage their networks and reach a wider audience.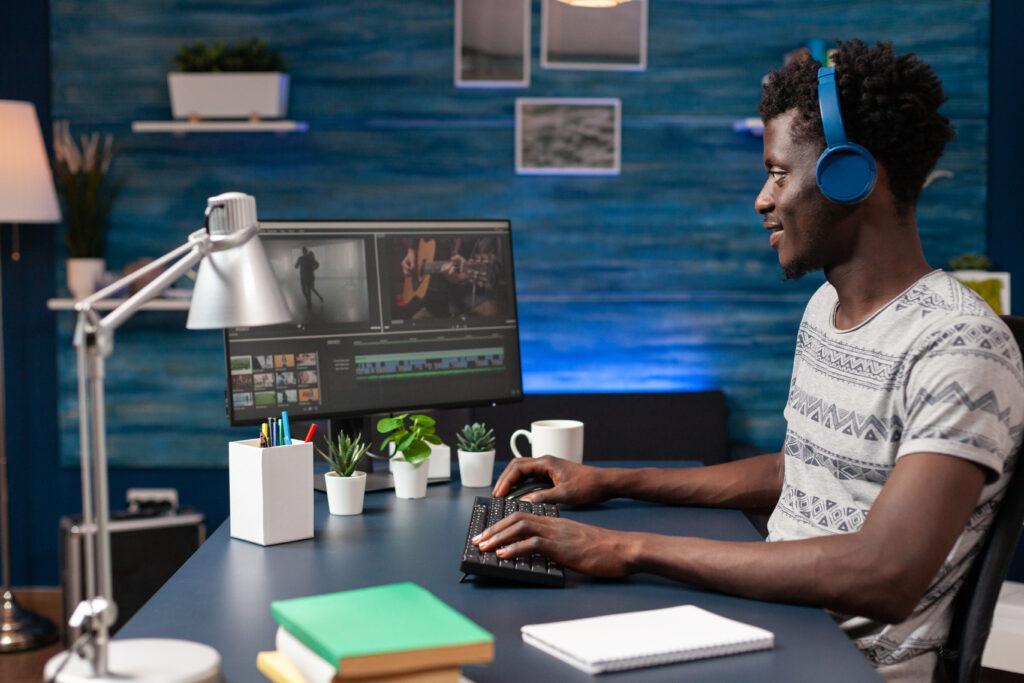 VI. Marketing Overall Visibility
DJGN aims to enhance the overall visibility of artists by utilizing multiple channels and platforms. This includes corporate programming positions, commercial FM radio stations, charting digital radio stations, and other strategic alliances.
References
Nielsen Broadcast Data System