As a musician, one of your biggest jobs is to find new ways to reach your fans and engage with them. Email marketing for musicians is a powerful tool to help you build your fan community, discuss upcoming concerts, sell merch, and promote your music.
Of course, knowing how to produce music isn't the same as knowing how to market yourself effectively. For some musicians, researching marketing tactics is like pulling teeth. Luckily, developing your email list and sending out emails doesn't have to be a challenge.
This guide will walk you through the 10 steps you need to develop a winning email marketing strategy, implement that strategy, and increase audience engagement — all without needing a marketing degree.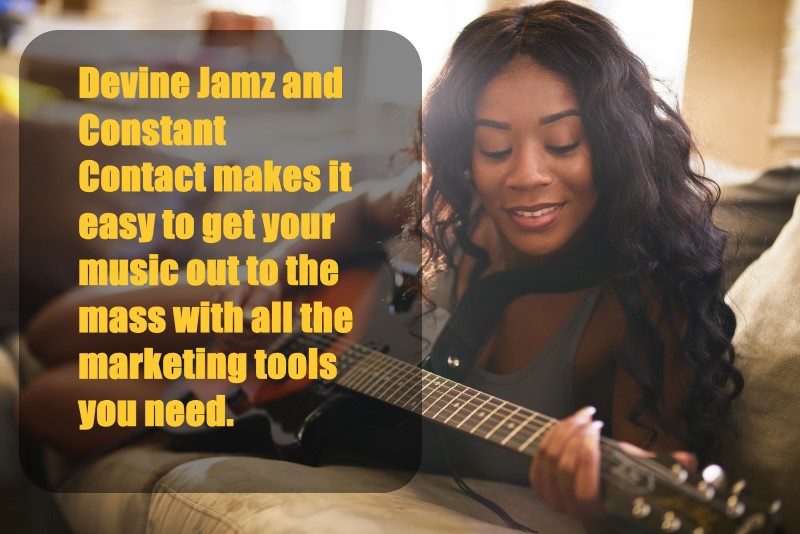 Benefits of email marketing for musicians
Your music may be the art you enjoy creating, but marketing is your bread and butter. So it's no surprise that close to a third of musicians split their working hours 50/50 between creating new music and marketing themselves.
There are several ways bands and musicians can promote themselves, from using social media to creating music videos for fans to enjoy between concerts. However, email marketing offers a unique promotional avenue for musicians because it reaches your fans directly.
By emailing fans, you'll be cutting through all of the noise and chaos they may experience on social media, keeping their attention focused on your message.
Marketing by email also allows musicians to connect with their fans regularly. By reminding fans of your presence and upcoming gigs, you can keep them excited about new music and attending your shows.
10 steps to email marketing for musicians
Email marketing for musicians doesn't have to be a challenge. The key is to take the process one step at a time, breaking it down into manageable chunks. This 10-step guide helps you do just that, walking you through the email marketing process from beginning to end.
1. Develop a beginning email list
Before doing anything else, you want to start by creating a list of all of the email addresses you currently have. If you haven't thought about email marketing before, this list may be a tad short. But if you've been collecting email addresses at gigs or on social media, now is the time to compile them in one location.
Using a spreadsheet is the best way to collect email addresses, as most marketing platforms integrate with spreadsheets.
Alternatively, you can choose your marketing platform first and then upload your email addresses directly into the platform's database. As a result, it may be more time-consuming in the long run.
2. Choose an email marketing platform
Working with an email platform is a must if you want to make the most of email marketing for musicians. Email platforms make it easy to push professional-looking, multimedia email campaigns out to large numbers of people. They also have the technology necessary to track how those emails perform, enabling you to make smart decisions about marketing your services in the future.
Email marketing platforms can also prevent your emails from winding up in spam boxes, improving your open and click-through rates. Most providers have tutorials embedded into their platform to help you make the most of their services and deliver high-quality emails every time.
3. Determine how to continue developing your email list
Once you've established yourself with an email marketing platform, your next step is to ensure you continue to bring in new email addresses with which to grow your email list.
The best way to grow your email list for musicians is to ensure you have a strong website with an integrated email sign-up tool. Check out Devine Jamz's Constant Contact website created for email marketing. This gives fans who visit your website and want to engage with you an easy way to seek out more content. You can also add incentives to encourage people to sign up for your newsletter, including:
Offering a discount on your merchandise
Delivering a sneak peek of an upcoming music video
Including a link to a free song download
There are also a variety of online tools you can use to help grow your email list. From web-based sign-up forms to text-to-join technology, you can use these tools to make it easy for fans to sign up for your newsletter with one click of their mouse or touch of their finger.
4. Set your email marketing goals and strategy
Having an email marketing strategy in place can help you evaluate whether your emails are doing their job and where you may need to improve your email marketing techniques.
Your band's marketing strategy should include SMART goals. Knowing whether the goal of your email marketing is to increase engagement with your fans or increase ticket sales can guide you as you craft your emails and move forward.
Email marketing for musicians should also include promoting upcoming events. You can ensure you do this by creating an email marketing calendar with upcoming gigs listed on it. Set a marketing timeline for each gig — with bigger concerts necessitating more email reminders — and plan the rest of your marketing strategy around these key moments in your marketing calendar.
This music marketing calendar uses a combination of graphics and colors to make it easy to see, at a glance, what the marketing goals are for each day. The release day, circled, is clearly the big event this month, with other content planned around that key point.
5. Create a rocking email marketing template
Using a dedicated template for your emails has several benefits.
First, it makes it easy for you to create beautiful, professional-quality emails in a flash. Most marketing platforms use drag-and-drop email templates, allowing you to easily swap images or videos into your templates. This means that you can keep your emails looking fresh without having to start from scratch every time.
The second major benefit to using a marketing template is that it allows your fans to know, at a glance, that the email is from you. You can include your band's logo in the corner, use a special font for your headers that's unique to your brand, or personalize your email template with colors your fans would readily associate with you.
These small steps ensure that email marketing for musicians stays unique while still allowing you to use many of the techniques top marketing executives use to drive engagement.
6. Practice writing persuasive email content
You can send out a thousand emails, but unless they engage your fans and invite them to take action, you won't reach the level of marketing success you're looking for.
There's an art to crafting a compelling email. For email marketing for musicians to be successful, you have to know how to get your fans excited, offer them value, and persuade them to take specific action as a result.
For example, consider an email telling fans about an upcoming concert. You don't just want to let them know the concert's going to happen. You want to get them excited enough to attend. To do this, you might include a teaser video of your band in concert, or you might promise that you're releasing an exciting new song for the first time at that concert. Once you have them hooked, you can successfully invite them to purchase tickets online.
Because this is such an art form, it's a good idea to research persuasive writing techniques and practice writing effective marketing emails.
7. Send out your welcome email
The first email you send to new subscribers should welcome them to your newsletter and get them excited to be part of your email community. You can also use your welcome email to tell your fans about the type of content you will send them in the future and to encourage them to whitelist your email address for improved deliverability.
When first starting your newsletter, it's also a good idea to send a message to those on your current email list, announcing your new newsletter.
8. Create a series of automated email drip campaigns
Email marketing for musicians should have an automated component to help you be successful in your marketing efforts. After all, your number one job as a musician is to create music and perform.
Drip campaigns, also known as automated email campaigns, solve this common marketing problem. These campaigns allow you to set up one email and send it out automatically when your fans take certain actions.
For example:
Your welcome email series might thank your fans for signing up and introduce them to the type of content they can expect to receive from your band.
You could create a series of educational emails about your band or your music creation process that goes out to relatively new fans after they've made it through the welcome series.
You could have an abandoned cart reminder that fans receive when they've put your merch in their cart but haven't checked out for a period of time.
The value of automated campaigns is that they allow you to engage with your fans without a lot of effort on your part. You establish the campaign once, set the parameters for who it goes out to and how often, and then forget about the email from that moment forward.
9. Monitor your email campaign progress over time
As you begin sending out more and more email campaigns, it's important to monitor your progress. Most email marketing platforms offer a report that includes information like:
Your email open rate
Your email delivery rate
Your click-through rate on your email's links
The number of fans who have unsubscribed from your email list
One of the best things you can do is educate yourself about how to interpret your email marketing report. Knowing what the different numbers mean — and whether you fall into a normal range for musicians — can help you establish future marketing goals and continue to improve your email marketing techniques.
Beyond your basic email stats, however, it's also important to track the key performance indicators (KPIs) most important to you as a musician. These include:
Concert attendance
Music sales
Merchandise sales
If your email statistics are good, but your KPIs as a musician are not increasing at the rate you'd like, it may be time to re-evaluate the calls to action you're using in your emails.
10. Improve your marketing techniques based on your goals
When you've established your goals and have your marketing report in hand, you can begin addressing any issues you see and work toward your goals.
For example, if you notice that you have a high email bounce rate, you might need to research why this happens. Doing so will allow you to implement strategies that reduce the number of emails bouncing from your fans' inboxes.
If you have several areas where your email marketing could improve, choose to focus on the most important factors to your overall marketing goals. Keeping your adjustments in line with your goals improves your chance of meeting those goals while preventing you from becoming overwhelmed by trying to do everything at once.
Tips to improve email marketing for musicians
Email marketing is about more than just the words you use. As a musician, you have the unique ability to deliver high-quality emails with multimedia content from your band. The best musician email marketing might:
Include images from your latest concert
Have videos of you and your band members playing music
Include links to MP3 recordings
Update music videos
Showcase style options for upcoming merch and allow fans to vote on their favorite designs
Adding high-quality images and video is a great way to make your emails more engaging for your fans and increase their desire to open your emails.

Images don't have to be just still shots of your band. This email header image combines graphics, words, and color to convey a complete message engagingly.
Another important tip for improving your email marketing is to personalize your emails. Ensure your automated emails are designed to address fans by name and consider segmenting your lists based on how your fans have engaged with you in the past to deliver the most relevant emails.
Begin your email marketing journey today
Get started today by choosing your email marketing platform and beginning to experiment with the email templates they offer. Once you've personalized an email template to represent your band, writing emails and sending them out becomes a little bit easier. The next step is to decide how you will grow your email list so that as many fans as possible have access to your emails.
Ready to do more business with email marketing?
Cait Carter has a passion for helping all businesses showcase their expertise while remaining approachable to their target audience. Her clients have included eCommerce businesses, parenting websites, and health food industry leaders. She is a full-time writer with a BA in Creative Writing and an MA in Communication.
This post contains affiliate links, meaning we may earn a commission if you make a purchase through our links, at no extra cost to you. Your contribution helps sustain our blogging and supports our efforts to provide informative and valuable information. Even though Devine Jamz Gospel Network receives compensation for our posts or advertisements, we always give our honest opinions, findings, beliefs, or experiences on those topics or products. The views and opinions expressed on this website are purely of Devine Jamz Gospel Network. Any product claim, statistic, quote or other representation about a product or service should be verified with the manufacturer, provider or party in question.