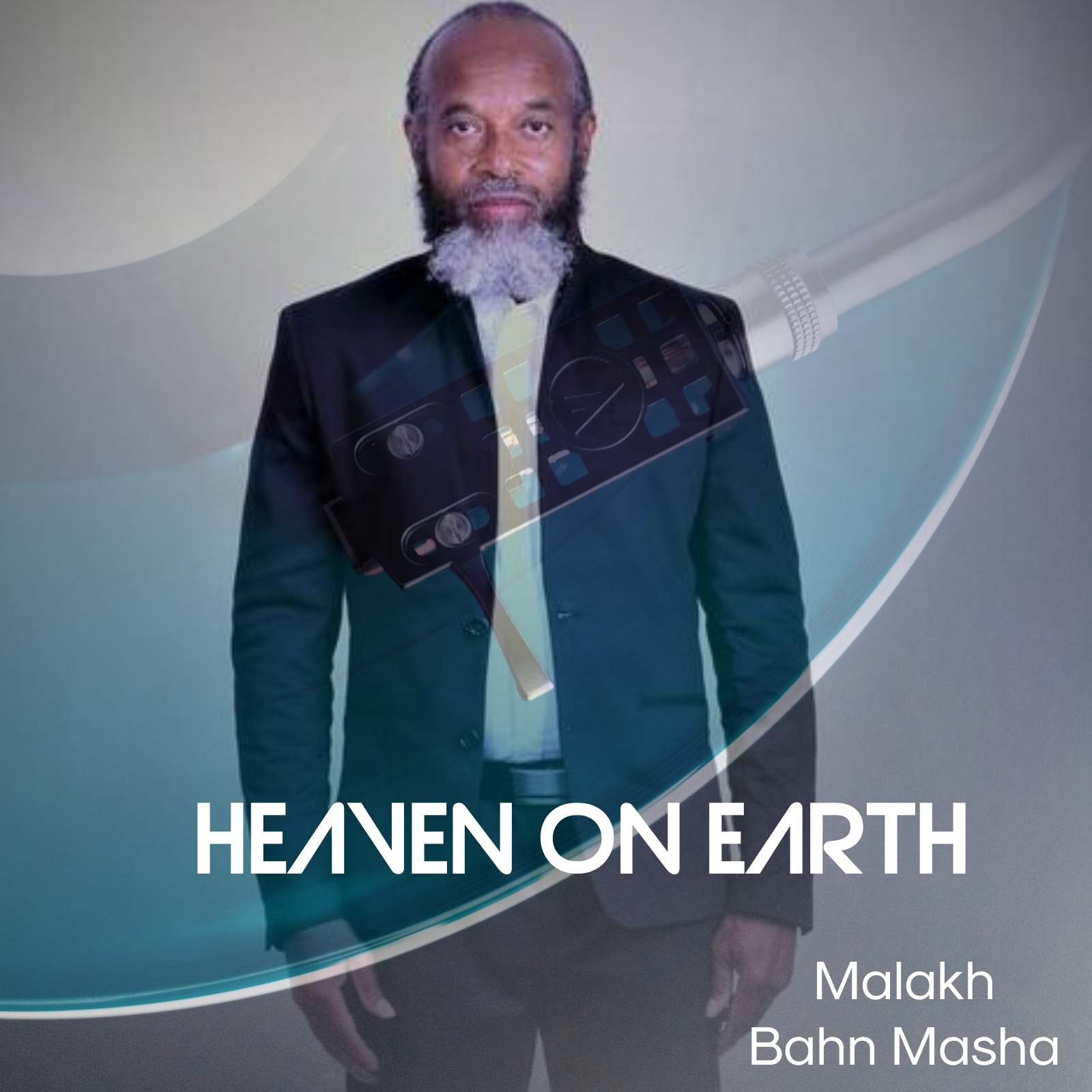 What You Should Know About The Song "Heaven On Earth"
The song "Heaven On Earth" is the product of a dream whereby a heavenly host were watching Malakh Bahn Masha as he was navigating the city at night. Malakh knew they were watching pleasantly and with delight as he kept heading to his destination. These "Angels" and their Lord were watching with purpose, and seemed to appear as "Stars" in the night sky.
While this scene went on for the entirety of the dream/vision there was a tune that was the theme song and music of this visitation. It was the song "Heaven On Earth". Every instrument and melody are the same as the vision except the percussion. It was very beautiful and while dreaming Malakh Bahn Masha became a fan of the tune. As a result, the song was born and now charting on two Digital Radio Tracker's global top airplay charts.
DRT Global Top Radio Airplay Chart Highlights
Malakh's Single 'Heaven On Earth' was put in radio rotation the week of 12-27-20. Since then, radio airplay tracking reports revealed 15 reporting stations including BDS Internet Gospel Radio provided over 5,600 spins (2-6-21 to date). The song has chart more than 6 weeks to date and peaked at #12 on DRT Global Top 50 Gospel Inspirational Airplay Chart and #83 on DRT Global Top 150 Independent Airplay Chart. It's fair to say that the song will gain more spins in the 2 month campaign spearheaded by Devine Jamz Gospel Network.
DRT Global Top 50 Gospel / Inspirational Airplay Chart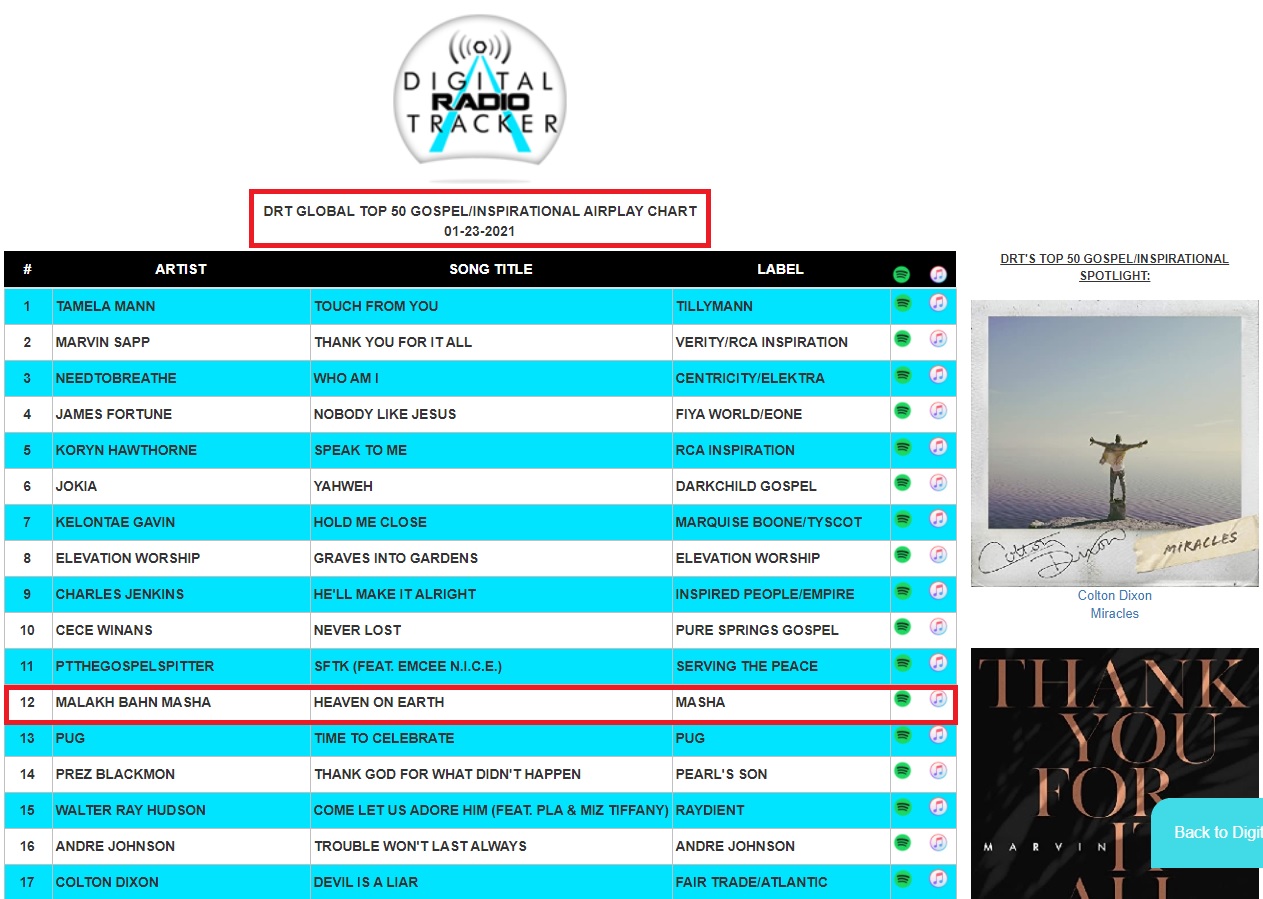 DRT Global Top 150 Independent Artist Airplay Chart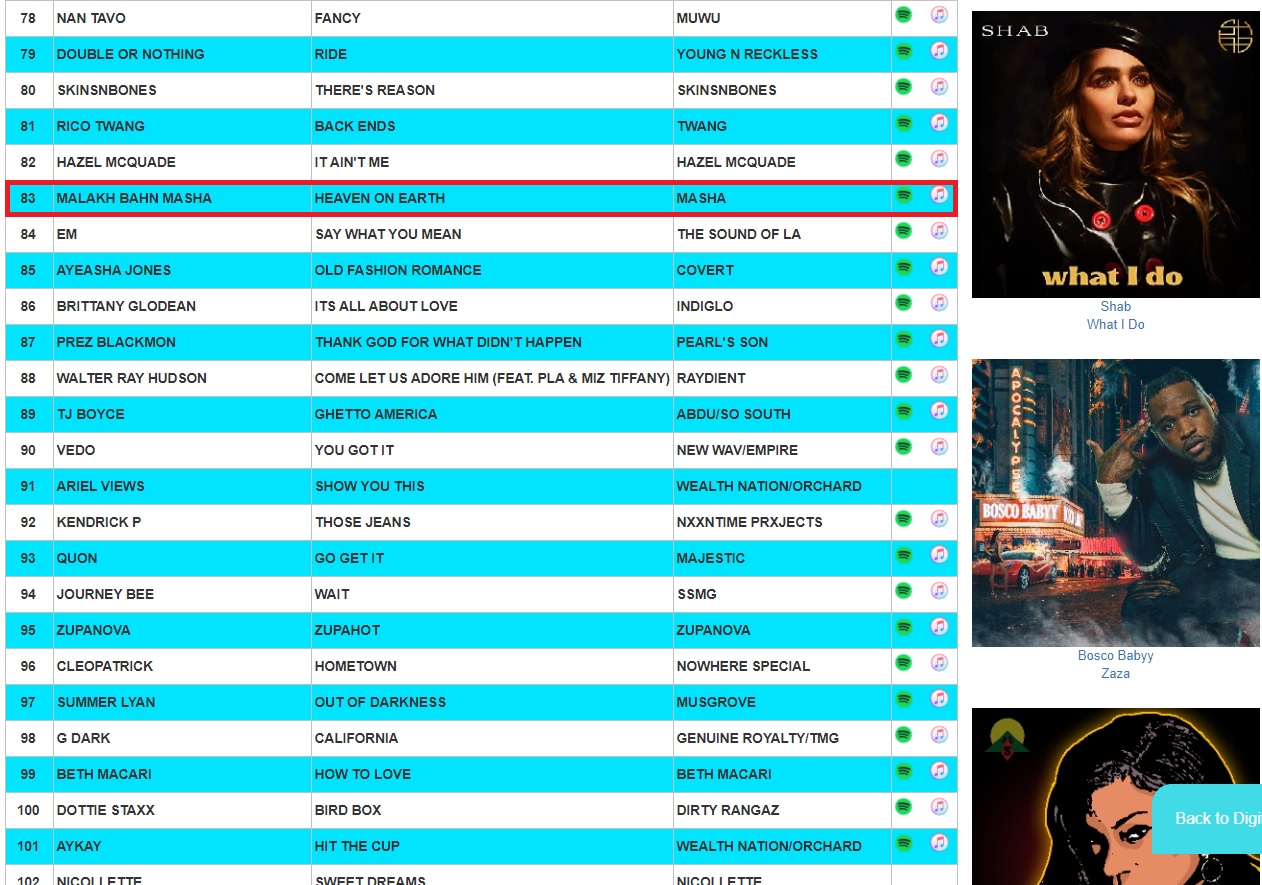 FINAL WORD: RECOMMENDED FOR AIRPLAY
Now charting at Digital Radio Tracker for 6 weeks, 'Heaven On Earth' is worth adding to your radio program or great for streaming on your uplifting music playlist. Malakh recorded an inspirational song not just for him, but for a blessing to God. Others can gain through this experience the encouragement to believe in the almighty when they are presented with spiritual insight.
HOW TO RECEIVE A DOWNLOAD FOR RADIO AIRPLAY
To receive Malakh Bahn Masha's music for radio airplay or streaming, please send inquiries by phone or email to Devine Jamz Gospel Network. They help artists and labels create their path to the mainstream through music marketing management.
FANS CAN STREAM 'HEAVEN ON EARTH' ON ITUNES
Malakh Bahn Masha's Previous Projects
Malakh Bahn Masha On The Web
MALAKH BAHN MASHA RELATED POST
A Dream Of "Heaven On Earth" Through Song By Malakh Bahn Masha