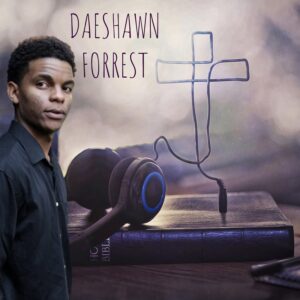 Meet DaeShawn Forrest, an emerging Christian emcee from Antioch, California. With his latest release "State of Mind," he effortlessly expresses his gratitude for God's favor. Though only aged 19, Forrest has survived many storms to be able to stand on such an uplifting platform today. His hearing for God's word grew stronger as he pulled away from situations that didn't serve his greater call.
Did you know that reconnecting with God isn't something to be ashamed of? Well, this is certainly true for Forrest in the creation of 'Distance,' ft. fellow Californian gospel artist Ms. KJ'nae. He let me know:
"Initially, it felt like I was in an odd space because I began to have this feeling that I was empty spiritually. I had never felt that way before, so I knew it was God from the start. It wasn't until a few days later that I had went to God in prayer to address the situation. In so many words, the Lord told me that he wanted to use me, but there was a lot of work that needed to be on myself first. However, for Him to be able to work on me, I had to distance myself from the things and people that had my attention. Not distance myself so far to where I become isolated, but to give myself the necessary space needed so I can be able to hear God when he speaks."
You see, when you press play on 'Distance,' song opens with faint keys very reminiscent of the above mentioned. At 0:22 seconds, it's met with a calm & collected beat, and a meditative flow. Forrest raps about how distancing himself from negativity drew him closer to God. It's never easy to quit any habit, but it surely is easy to start a new one. Jesus became a great habit for Forrest again, and it's clear with 'Distance,' you must make yourself available to be used for the greater.
It's a blessing for everyone, that Forrest decided to kill the noise and take seriously his faith walk. He released "State of Mind," a powerful LP of Christian hip-hop that celebrates the reconnection with, and reliance on God. So, if you're into positivity, prosperity, and passion, then music by DaeShawn Forrest is for you.
His music is definitely for me; as not a new believer, but reconnector. I'm slowly approaching thirty years old, and I'm not ashamed to admit that my attention has been so fragmented for the past six years. During and after college, I focused on intimate love and relationships, steady chasing external validation versus my God in me. Much like Forrest, I felt depressed and angry, but I kept dreaming. I still heard a voice in the daytime, and at night. And, that voice was a heavenly reminder of my goal in life - to be happy. At the time, what made me happy was the co-dependent relationships I believed I needed for support at the time. I was too afraid to chase my dream of being a happy writer. To me, although I had a college degree, I still needed experience in order to be taken seriously as a writer. No one was taking me seriously at home, Jesus later revealed that was because I wasn't taking it seriously.
Well, in a fight with my partner at the time, I was staying with my mother for a few weeks. Mom insisted I meditate to keep from having an epileptic fit; so, I did in my way- Deepak Chopra, The Clark Sisters, and Cognitive Transformations on Apple Music. At the time, in my heart there was this constant aching. In my mind,  there were so many different paths being revealed like a map. So, for answers I began praying and I mean praying like God is right here in front of me. We started having conversations regularly. His responses to me came overtime, but as I sought, He brought. When it comes to 'Distance,' the same is true for Forrest, too:
"Jesus revealed a lot to me about how I oftentimes stand in the way of my own growth causing me to have to mature a bit. When creating the song, it felt necessary to highlight the things that led to me distancing myself because I was in that space for a while. It also shows how important it is to keep an ear out for God especially since we want him to always keep His ear out for us."
DaeShawn isn't wrong either. This resonates with me so profoundly because I obviously stood in my own way for quite some time. My awareness was low, my attention was in pieces, my emotions were eggshells, and my faith was nonexistent. I was dead spirit, not a living one. So, for my dreams to come true, I had to believe in myself again. I had to forgive myself for sin. And, I had to come to Jesus.
DaeShawn's 'Distance' demonstrates just how faith walking isn't easy, but it is rewarding.
DaeShawn Forrest On The Web:
Review Created  By Taylor Valery
Taylor Valery is a Freelance Writer and Music Reviewer. He is the creator of HomageCollage which is a music appreciation blog created to celebrate the wins of affective artists. Homage2Heat is the new HomageCollage vertical that highlights heatseekers.