🎶🌟 AngelicVoicesMusic's New Gospel Single "Why Not" Feat. Asim I.I. Makes a Thrilling Debut on DRT Global Top 50 Gospel/Inspirational Airplay Chart! 🌟🎶
🔥 Soaring to #20 in its First Week of Airplay – A Remarkable Achievement! 🔥
AngelicVoicesMusic has struck a chord with their latest gospel release, "Why Not," featuring the incredible talent of Asim I.I., captivating music industry listeners worldwide. The single's groundbreaking success on the "DRT Global Top 50 Gospel/Inspirational Airplay Chart" is nothing short of awe-inspiring!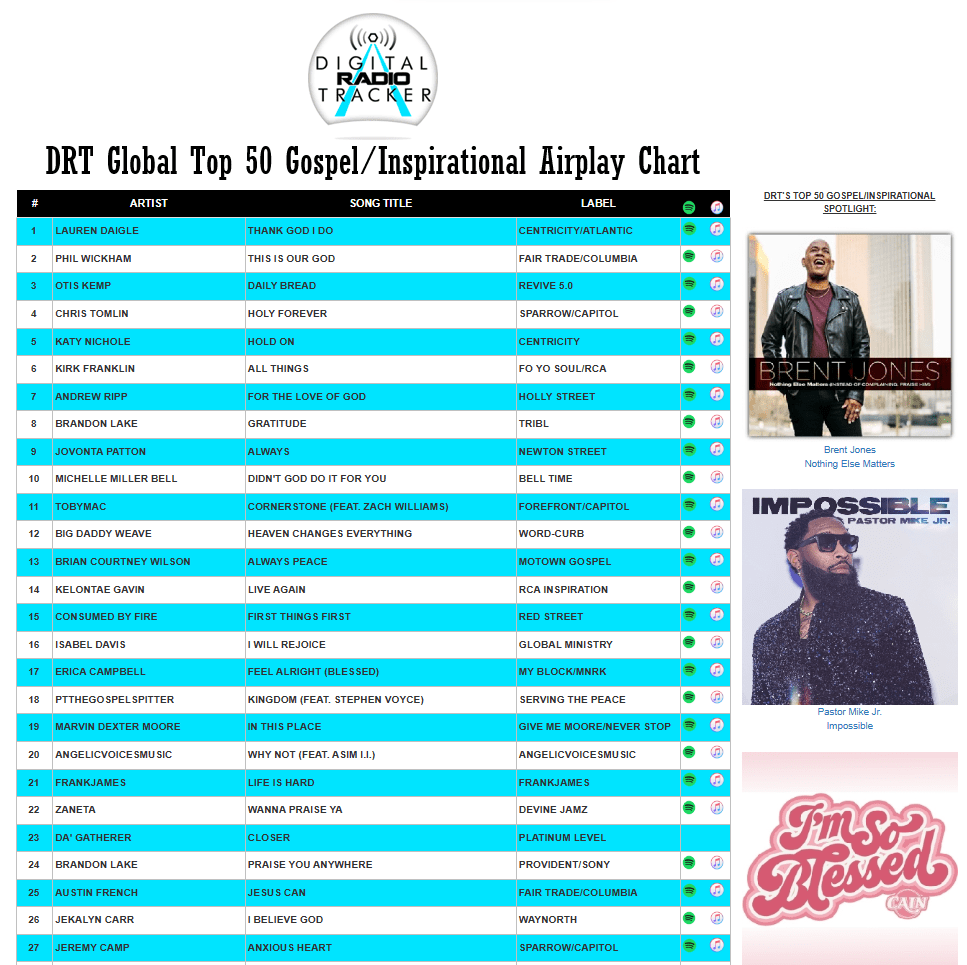 🎉 Awe-Inspiring Music Video Milestone 🎉
Accompanying the soul-stirring single, the music video for "Why Not" has created a massive buzz, crossing an astounding 2 million watch-time seconds on YouTube! The powerful message of the song resonates deeply with viewers, sparking an overwhelming engagement from the audience.
📻 Unveiling the Stories Behind the Music 📻
AngelicVoicesMusic and the esteemed Featured Artist, Asim I.I., are all set to dive into the heart and soul of their creation with the eminent Public Relations Strategist, Dr. Eunice Moseley, on "The Pulse of Entertainment." This exclusive interview promises to uncover the artistic journey and inspirations behind "Why Not," leaving music enthusiasts craving for more!
📡 Conquering the Digital Airwaves 📡
With over 15 digital radio markets passionately supporting the single, "Why Not" is now dominating heavy airplay rotations. This unwavering support gives rise to the exciting prospect of soaring beyond the current position and reaching even greater heights on the charts!
💫 A Gateway to New Horizons 💫
The dynamic team at Devine Jamz Gospel Network is ecstatic with the song's progress and firmly believes that "Why Not" has the potential to grace major radio markets and terrestrial radio stations. The song's compelling narrative and AngelicVoicesMusic's breathtaking vocals combined with Asim I.I.'s artistic finesse make it an irresistible contender for radio airplay.
🎊 A Standing Ovation to Both Artists 🎊
Congratulations pour in for AngelicVoicesMusic and the phenomenal Featured Artist Asim I.I. on an outstanding job! Their dedication and passion have birthed a divine masterpiece that touches hearts and uplifts spirits.
🎵 Listen to "Why Not" now and let its heavenly melodies elevate your soul! 🎵
Don't miss this gospel sensation that's making waves in the music industry. Stay tuned for more exciting updates as "Why Not" continues to shine brighter and inspire souls all around the world!