DRT's Global Top 50 Gospel Inspirational Artist Jeremiah Nedu released Contemporary Christian Single "Your Mercy" July 22nd, 2022. He seeks to be a source of inspiration and a beacon of light for those with a broken spirit and contrite heart. In the second week of national radio airplay (7-16-22), "Your Mercy" advance to #21 on Digital Radio Tracker's Global Top 50 Gospel / Inspirational Airplay Chart. Reports revealed the song has accumulated over 1,450 spins to date on more than 12 U.S. stations in various marketplaces. Advertising Metrics offer evidence Jeremiah Nedu has gained favor with "Your Mercy" and gives Devine Jamz reason to believe the song will remain in rotation for weeks to come!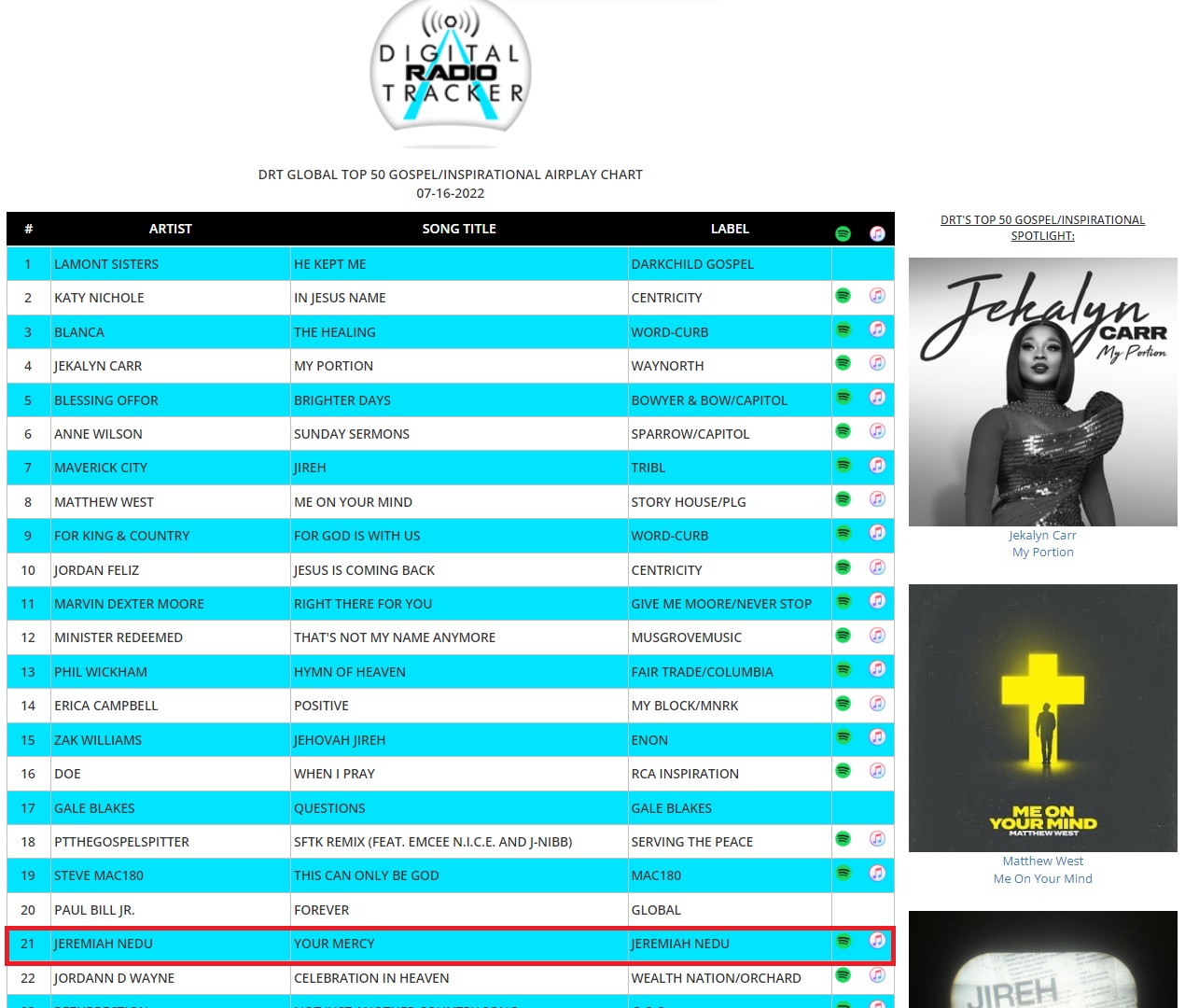 What It Sounds Like
Watch Official Music Video
"Your Mercy" is now available on Apple Music. The format is Contemporary Christian Music (up tempo). Song written by Jeremiah Nedu. Song produced by David Simmons. Instruments include keyboard, lead guitar, drums, and bass guitar. Jeremiah Nedu is the lead vocalist with supporting backup singers.
Spiritual / Lyrical Highlights
The song talks about the tender mercies of God. His goodness, protection, and love for humankind. The supporting scripture is: Psalm 145:9 "The Lord is good to all: and His tender mercies are over all His work."
For Fans Of
Phil Wickham, Hillsong, Elevation Worship
Highly Recommended
Christian Music Promoters at Devine Jamz Gospel Network believes "Your Mercy" will transform people`s lives, destinies, and their relationship with the Creator; that through His love, they experience kindness and ability to live a life of victory. Devine Jamz identified exceptional characteristics in Jeremiah's music, which included but not limited to:
Great vocals, verses, chorus, bridge, hook, structure.
Lyrics that focus on Jesus or viewed as inspirational.
A catchy melody that supports the words / atmosphere.
A music production that's professionally engineered.
Harmony that blends well with the vocals.
A finished product ready for servicing, distribution & radio airplay.
Connect With Jeremiah On The Web 
Related Post
Christian Singer Jeremiah Nedu Set To Slay New Single "Your Mercy"