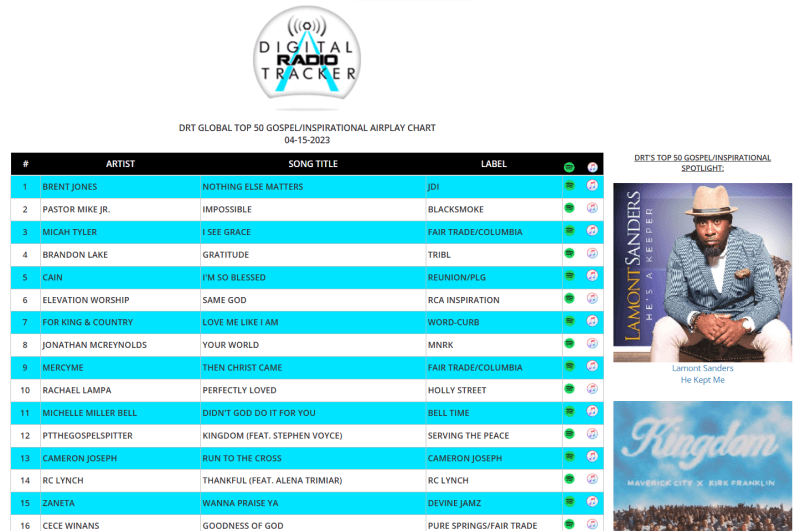 Recording artist ZANETA has just achieved a remarkable feat in the music industry, landing on a second radio airplay chart with her debut single "Wanna Praise Ya" in its first week of airplay. The song hit #15 on the DRT Global Top 50 Gospel/Inspirational Airplay Chart, an incredible achievement for the emerging artist.
ZANETA's "Wanna Praise Ya" is a powerful and uplifting gospel track that has already been receiving widespread recognition and praise from music lovers and critics alike. The song features ZANETA's soulful vocals and powerful lyrics that inspire listeners to find joy and hope in their faith.
#2 On Hypeddit Top 100 Downloads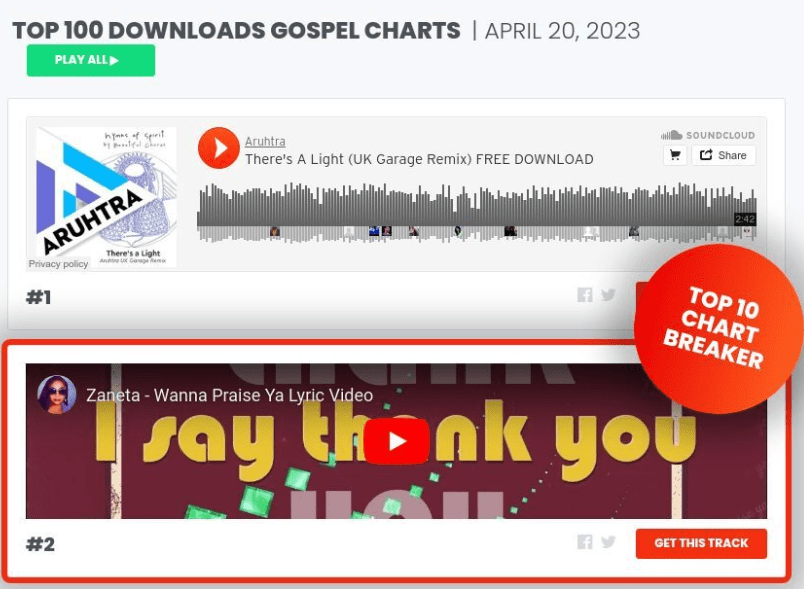 The DRT Global Top 50 Gospel/Inspirational Airplay Chart is a highly coveted ranking in the music industry, featuring the most popular gospel and inspirational songs being played on radio stations worldwide. For ZANETA to achieve a #15 spot on the chart with her debut single is a testament to her incredible talent and the impact of her music.
ZANETA's success on the DRT Global Top 50 Gospel/Inspirational Airplay Chart is just the beginning of what promises to be a bright career in the music industry. With her powerful voice and uplifting message, she is quickly establishing herself as a force to be reckoned with in the gospel music scene.
Fans of ZANETA's music can watch her video interview with Ray Oster at Devine Jamz Gospel Network and follow her on social media to stay up-to-date with her latest releases and news. Congratulations to ZANETA on this amazing accomplishment, and we can't wait to see what the future holds for this rising star in the music industry.
Watch Zaneta In Her Interview
Listen To Wanna Praise Ya
Zaneta - Wanna Praise Ya Lyric Video - On YouTube

Get Free Download
Zaneta is offering her debut single for free to build a connection with listeners. She is showing fans that she understands their struggles, value their support and want to be a blessing. Click the download link or button below to receive "Wanna Praise Ya" now.

Zaneta On The Web
This post contains affiliate links, meaning we may earn a commission if you make a purchase through our links, at no extra cost to you. Your contribution helps sustain our blogging and supports our efforts to provide informative and valuable information. Even though Devine Jamz Gospel Network receives compensation for our posts or advertisements, we always give our honest opinions, findings, beliefs, or experiences on those topics or products. The views and opinions expressed on this website are purely of Devine Jamz Gospel Network. Any product claim, statistic, quote or other representation about a product or service should be verified with the manufacturer, provider or party in question.