By David E. Maxwell
Christian Music Reviewer
CEO of D.E.M. Beats Production
LIGHT THE NIGHT MUSIC REVIEW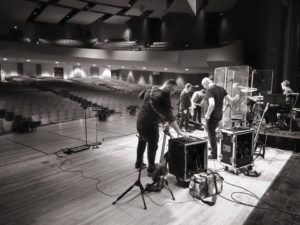 As I listened to the music of "All The Astronauts" (ATA), I felt as though I was taking a journey with this astronomical group to a special place of praise and worship. I love the way each song builds upon one another. The lyrics of each song really tells a story that many can relate to. It inspired, encouraged and brought comfort as I listen to the way they flow one after another.
The music is alive, energetic and grabs your attention. This album is full of emotion from the first song intro to the last song. If I had to pick a favorite it would be a difficult task because they are all so meaningful. Nonetheless, I would say track #5, "Come As You Are". It's a cover from The David Crowder Band. It tells a story of the need for hope and restoration amid sorrow and despair. There are so many who may want to come but allow their condition and situation to prevent them. This song takes away those barriers.
The album sounds like it's a live performance, thus give you a truly unique worship experience. Not often does a band come along that have this level of anointing in their music. This is the type of music you can pop in your cd player and set on repeat to listen to over and over again.
All The Astronauts truly lives up to their name! They take you on a journey out of this world and ushers you in the presence of God!
CHURCH MUSIC SHOULDN'T BE BORING
It's a phrase that All The Astronauts throw around a lot with their Foo Fighters, U2, Angels & Airwaves rock/alt modern worship style. Throw in some modernized hymns and you're getting close to hitting the mark of describing what you'll hear.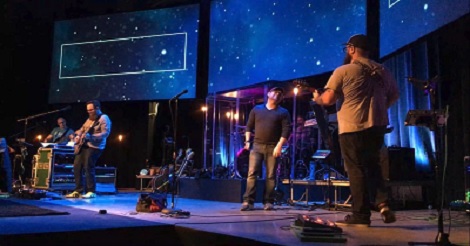 All The Astronauts (ATA) have been playing together for the better part of a decade as part of the worship ministry at Crosspoint Church in Fishers, IN, but it wasn't until worship pastor/lead vocalist and guitarist PJ Towle started crowd funding a recording project in the summer of 2016 that the band took on the official form of ATA. Fueled by a deep passion for the church and connecting with people that don't connect with Church as it's been known, ATA's sound grew organically as Towle introduced songs to the church. "I started writing these songs working through my own baggage with my faith," says Towle. "Over the years these guys joined the band at Crosspoint and things just clicked. They all had the same drive that I did: to do what God wanted them to do with their music."
After a successful, crowdfunding campaign the recording process began to show signs of larger aspirations for everyone involved. Towle explains, "I never wanted to be seen as a solo act so I had this 'band name' lined up to keep the focus off me (I'm just a guy who wears a lot of flannel). But as the recording process went on, it was pretty clear that everyone bought into the vision of what this thing was all about." And, thus, the official All The Astronauts was born.
ATA ON THE WEB